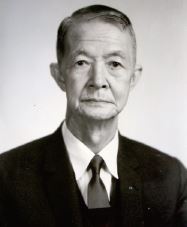 Dean / Tu Chung-Ming 
   The 1st Dean of Kaohsiung Medical College
   August 1954 ~ September 1966 
     Born in Taipei County on Jul. 14, 1893, and died at the age of 94 on Feb. 25, 1986.
     Dr. Tu was graduated from Taipei Medical College and obtained a Ph.D. degree in Medical Science at Kyoto Imperial University in Japan. He successively acted as a committee member of Taiwan Provincial Government, the Director of Taiwan Province Medical Association, the Dean of the College of Medicine of National Taiwan University, a member of National Political Council, and a standing committee member of Medical Education Affairs Committee of the Ministry of Education.
In July 1953 Dr. Tu founded Kaohsiung Medical College and acted as the first Dean of the College. He took this post for 12 years and 1 month, starting from Aug. 23, 1954 to Sep. 1966.