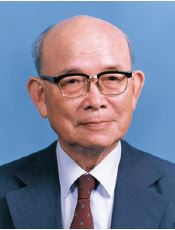 Dean / Wei Huo-Yao 
   The 2nd Dean of Kaohsiung Medical College
   October 1966 ~ June 1967
     Born in Taipei City on Nov. 29, 1906, and died at the age of 89 on Feb. 6, 1995.
     Dr. Wei obtained a bachelor degree and a doctorate degree in Medical Science at Tokyo Imperial University in Japan. He successively acted as a professor, Academic Affairs Supervisor, and the Dean of the College of Medicine at National Taiwan University, the Director and the Supervisor of Pediatrics Department at National Taiwan University Hospital, the Director of Pediatric Association of the Republic of China, an academician of Academia Sinica, the Director of Formosan Medical Association, the Chairman of Medical Education Committee of the Ministry of Education, and the President of Chinese Blood Services Foundation. Spending his whole life on medical science and social welfare, Dr. Wei was really a venerated doctor and a remarkable educator in the medical field of Taiwan.
     Within the 9 months of being the Dean of Kaohsiung Medical College, Dr, Wei governed the College with honesty, leading the education affairs to a systematic way and leaving impressive performance in administration.