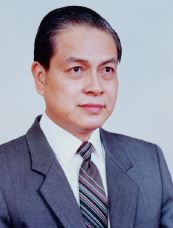 Dean / Yang Chen-Chung 
   The 3rd Dean of Kaohsiung Medical College
   July 1967 ~ July 1973 
Born in Taipei City on Jul. 15, 1927.
     Dr. Yang was graduated from Medical College of National Taiwan University, obtained a Ph.D. degree in Medical Science at The Jikei University School of Medicine in Tokyo, Japan, and was a researcher at the University of Wisconsin in the United States. At Kaohsiung Medical College, he successively acted as a professor and concurrently Biochemistry supervisor, Academic Affairs Supervisor, and Student Disciplinary Affairs Supervisor. He also acted as a Research Chair Professor of National Science Council, a part-time researcher of Academia Sinica, a member of the Chinese Committee of International Union of Biological Sciences, the Vice-Supervisor of the Chinese Youth Anti-Communist National Salvation Corps, and the Director of the Graduate Institute of Molecular Biology of National Tsing Hua University.
     Currently, Dr. Yang is an academician of Academia Sinica, and an honorable Chair Professor of National Tsing Hua University.