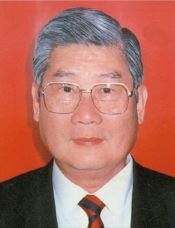 Dean / Hsieh Hsien-Chen
   The 4th Dean of Kaohsiung Medical College
   September 1973 ~ June 1991 
Born in Changhua County on May 10, 1924.
     Dr. Hsieh was graduated from the College of Medicine of National Taiwan University, obtained the Diploma in Tropical Medicine & Hygiene (D.T.M. & H.) at London School of Hygiene & Tropical Medicine in England, earned his doctorate degree in Medical Science at Kagoshima Medical University in Japan, and was conferred honorary degree of Doctor of Science by Arkansas State University in the United States. He successively acted as a Technical Specialist and Supervisor of the Taiwan Province Malaria Institute, a Professor, the Head of the Department of Parasitology, Academic Affairs Supervisor and the Director of the Graduate Institute of Medicine at Kaohsiung Medical University (KMU), a visiting Professor of Brigham Young University in the United States, a medical advisor and a parasitic disease advisor to the World Health Organization of the United Nations, a parasitic disease control consultant to the Health Department of Taiwan Provincial Government, a senior researcher of the American Foundation for Tropical Medicine, a committee member of National Health Advisory Committee under National Health Administration of the Executive Yuan, and a committee member of Medical Education Committee under the Ministry of Education. Currently, he is the Managing Director of the Chinese Parasite Control Association, the Director of the Chinese Parasitology Society, an advisor of National Health Administration of the Executive Yuan, and an honorable Professor of Kaohsiung Medical College.
     Dr. Hsieh acted as the 4th Dean of Kaohsiung Medical College for 18 years, from Jul. 9, 1973 to Jun. 30, 1991. He was retired on Jul. 1, 1991.