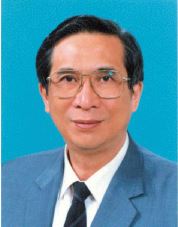 President & Dean / Tsai Juei-Hsiung
   The 5th Dean of Kaohsiung Medical College
   The 1st President of Kaohsiung Medical University
   July 1991 ~ June 2000 
Born in Tainan City on Dec. 26, 1935
     Dr. Tsai was one of the earliest graduates of the Medical Science Department of Kaohsiung Medical College, and earned his Ph.D. degree in Medical Science at the University of Tokyo in Japan. At Kaohsiung Medical College, he successively acted as the Professor, Student Disciplinary Affairs Supervisor, and the Supervisor of Internal Medicine Department. At Kaohsiung Medical University Chung-Ho Memorial Hospital, he once acted as the Director of Medical Department, Neurological Department and Nuclear Medical Department, and the Vice-President of the Hospital. He also acted as a visiting Professor of Arkansas State University of the United States, and the Director of Taiwan Society of Nephrology.
     On Jul. 1, 1991 Dr. Tsai took over the post of the 5th Dean of Kaohsiung Medical College. On May 29, 1995 the post of Dean was renamed as the President in accordance with the letter of the Ministry of Education.
     On Aug. 1, 1999 Kaohsiung Medical College was officially renamed as Kaohsiung Medical University, and Dr. Tsai was its first President. He left his office on Jun. 30, 2000, and was retired on Jul. 1, 2000.