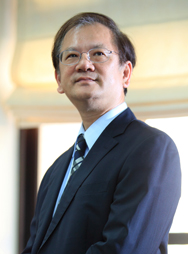 President / Ching-Kuan Liu
   The 6th and 7th President of KMU
   July 2012 ~ June 2018 
Prof. Ching-Kuan Liu, MD, PhD was born in Kaohsiung, Taiwan in 1956. He graduated from the Kaohsiung Medical University (KMU) School of Medicine with honors such as being the commencement speaker on commencement ceremony and receiving the "Medal of Four Characters" in 1982. He completed his residency training in Neurology at KMU hospital. Subsequently, he received his master and PhD degrees from Graduate Institute of Medicine at KMU, where he was a distinguished graduate. He completed the Neurobehavior Fellowship Program and was a Clinical Instructor at Reed Neurological Institute of UCLA from 1988 to 1990. After returning to Taiwan, he became the Director of the Graduate Institute of Behavioral Sciences of KMU, the Chairman of the Department of Neurology of KMU & Hospital , the Dean of InfoTech of KMU, the Vice-Superintendent of the KMU Hospital, and the Superintendent of Kaohsiung Municipal Hsia-Kang Hospital. He just finished two 3-year terms as President of Kaohsiung Medical University. He earned the "Paragon of Taiwanese Medical Doctors Award" from the Taiwan Medical Association in 2015. 
Dr. Liu's research interests focus on behavioral neurology, stroke, dementia, and related disorders. He was the former President of Taiwan Neurological Society, the founding president of the Taiwan Dementia Society and the founding president of Kaohsiung Dementia Association. He is also a pioneer of recent telemedicine advances in Taiwan and was awarded the Distinguished Award for Telemedicine by the Telecare Industry Association of Taiwan in 2014. 
Based on the vision "New Generation, New Thinking, and New Blueprint," he re-envisioned the future of KMU and implemented I Love KMU: Innovation, Legislation, Knowledge, Mission and, Universality as his governance strategy and Integrity, Liberalism, Kindness, Modernization, and Unity as KMU's values. He united KMU alumni worldwide and advanced KMU culture with truth, justice, and love. He encouraged student extra-curricular activities, integrated the University and healthcare system, extensively revised university laws and regulations to promote liberty, democracy and autonomy of university. 
Dr. Liu raised the slogan of "KMU is our common DNA" to unify KMU alumni worldwide. During his tenure as president, he increased the number of sister universities from 48 into 122, advanced KMU's world ranking in the list of top 500 by Shanghai JawTong World University Academic Ranking, and transformed KMU into an innovative entrepreneur university. He also prompted transitional justice and published 3 volumes about KMU history, detailing the original spirit of the pioneers of KMU including that of the founder Dr. Tu Tsung-Ming and his followers who promoted academic autonomy and university democracy. 
Dr. Liu believed that the mission for the medical university is to devote to healthcare and improve human health welfare through teaching, research, and services. During his term as president of KMU, he expanded the KMH healthcare system to include the new Kaohsiung Municipal Chi-Jin Hospital, the expanded Kaohsiung Municipal Siao-Kang Hospital, and the new KMU Gang-San Hospital. His leadership prepared the KMU Healthcare System for the health challenges of the 21st century.